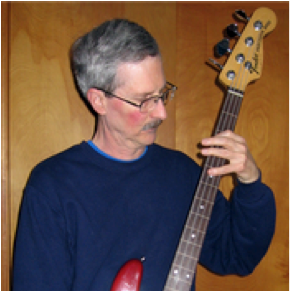 Joe Serwinowski
Bass Guitar
Joe Serwinowski caught the music bug as a kid watching The Beatles and Paul Revere and The Raiders on t.v.  He started learning guitar at age nine, switched to bass when he was eleven, won Battle of the Bands and recorded a 45 with his group when he was twelve years old, and played out regularly with rock bands for several years.
Throughout the decades, Joe has crossed paths and played with many talented musicians.  Along the way, he found his true passion creating progressive rock and new age music.
In addition to the British Invasion, Joe has been influenced by many groups including ELP, Jethro Tull, Yes, Happy the Man, Aqua Fragile, Brand X, Acoustic Alchemy, and Wind Machine.
Joe has known Gordo Bennett since the '90s and has periodically collaborated with him on several fusion and new age projects.
Joe Serwinowski is the driving force behind GorFusion. It is his awesome bass playing that started this project and so we set out to collaborate on his wonderful music to share it with you. The GorFusion songs all start out with a bass track sent to me from Joe allowing me to be as creative with them as I can be. Stay tuned in as this project will not be an album release but an on going series of single releases as we are able to create this music in between other recording projects.
Joe is also collaborating with me on our GorAcoustik project as well. This is a new age acoustic album that we've been putting together for some time. Some tracks were written by Joe and some by myself, but we find the perfect balance between each others music and playing styles which brings us together perfectly for this album.
So here we are…  We hope that you all enjoy the music as much as we've had creating it...